Texture by Kim Klassen: Start
I picked up on another pho­tog­raphy meme called Water World Wednesday. It's been a bit of a chal­lenge since we've not had any snow to speak of in middle Missouri this winter for "watery" pics. So to the archives I go. This week I'm giving you a break from the beach scene (What? Is that protesting I hear?) and selected a very rare event from last summer when one of my gerber daisies actu­ally had water on it. Truth be told, it was prob­ably from the sprin­kler since we were in the middle of a drought, but hey…it counts, right?
Linking up with Water World Wednesday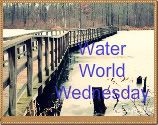 I think you'd also like.….