Texture by Kim Klassen: Urban
The ocean stirs the heart, inspires the imag­i­na­tion and brings eternal joy to the soul.
~Wyland
This is a scene cap­tured while staying at the Fiesta Americana in Cancun, Mexico back in 2007. It's one of my favorites and was taken the old-fashioned way.…with a film camera! When we went back last year, they'd recon­fig­ured the boardwalk…probably due to Hurricane Dolly rear­ranging the beach in 2008.
Which is, despite my luv for ocean and beach dreams, why I'll prob­ably never live on the coast of anything.
I scanned the photo into the com­puter and have used it in the past as one of my rotating desktop pic­tures. It's now been re-purposed with a tex­ture for Water World Wednesday.
Linking up with Water World Wednesday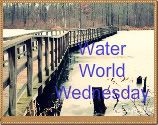 I think you'd also like.….